CTC has a number of study tools and resources available to help you make the most of your student experience. You can use these to ensure you are aware of key dates, policies and other expectations during your study from how to enrol in units or update your personal details, to grading and assessment information.
Code of Conduct
The Code of Conduct applies to all members of the University of Divinity as defined in Regulation 82.
Academic Integrity
Your responsibility as a student of the University is to adhere to academic integrity and the Code of Conduct.
Featured Links
Student Representative Council
The Student Representative Council (SRC) is a friendly and conscientious group of students elected to represent and serve the students of CTC in various ways
Style Guide
The University of Divinity is committed to the use of one basic referencing style for theology courses, which is based on the latest version of the Chicago Manual of Style (17th ed. 2017).
University of Divinity Graduate Attributes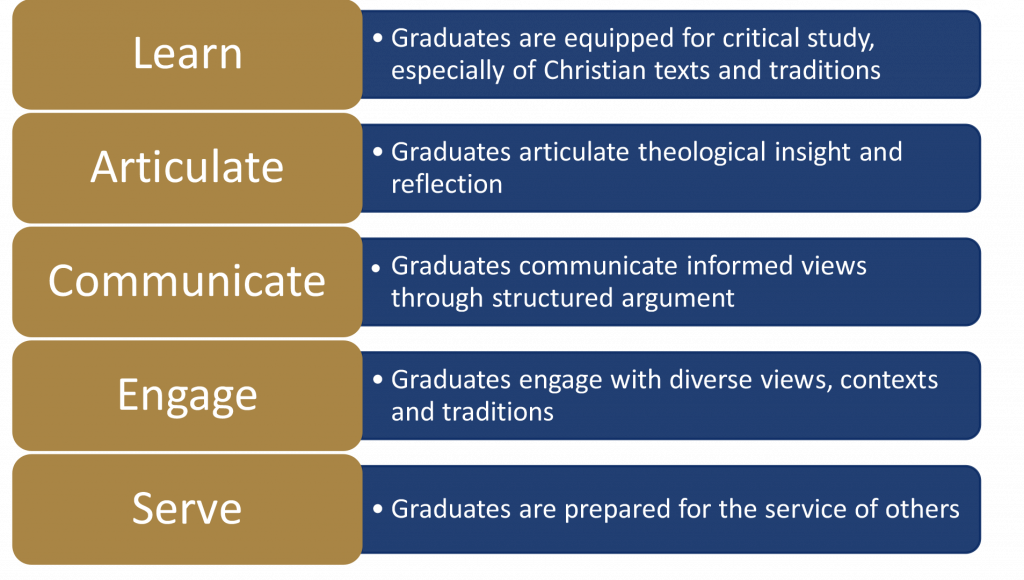 Academic and Student Information

Visit Student Resources on ARK (via your dashboard).

Featured Links

Featured Links
Seminars
Staff/Postgraduate Seminars
All postgraduate and HDR students are invited to attend CTC Staff/Postgraduate seminars. Seminars are held on Fridays from 1.00pm and the 2022 dates and presenters are:
Philosophy Discipline Seminars
All staff, postgraduate and HDR students are invited to attend University of Divinity Philosophy Discipline seminars that concentrate on philosophy and scholarship in the history of ideas.
Students will be informed by email of forthcoming topics and presenters.
Seminars are held on Fridays from 11.00am and the 2022 dates are:
Research Seminars
HDR students and their supervisors are invited four times a year to HDR seminars provided by CTC. These events include some research-seminar activities, updates of progress, raising of issues and sharing of experiences and challenges. This is a valuable collegial event. See the Research Key Dates for more information.
CTC Staff and Postgraduate Seminars. See above for more information.
The University of Divinity Research Conference is an annual gathering of faculty and HDR students providing attendees with an opportunity of presenting a short presentation of current research. For more information see the UD Website. 2022 Date: 2-3 June 9.30am – 4.00pm
ARK Learning Management System
ARK is the University of Divinity's online Learning Management System.
Each unit in which a student is enrolled has a corresponding page on ARK.
Most units will have two distinct files or versions on ARK: the parent, or "Meta" unit and the "Child unit". Meta units allow students to access unit resources, such as further readings, power-points from lectures, etc. Child units are where students might participate in forums, ask questions to the lecturer, submit assessment tasks or view feedback for work that has been marked online.
Students are able to access their new units on ARK seven days prior to the unit's commencement date.
A protocol of ARK is that students lose access to their completed units approximately a month after end of semester.
Information on Ark is available from:
At the Orientation sessions where ARK Guide for Students (February 2021), which is updated each semester, will be presented. This will be made available at Reception, on the CTC website and the CTC Student Resources page on ARK.
Unit Outlines
Accessing ARK
Website: ark.divinity.edu.au
Username: The email address given at enrolment e.g james.brown@gmail.com
Password for New Students commencing in 2020: day and month of your birth (DD/MM) and the last three digits of your UDiv student number. For example if your date of birth is 31/01/1970 and if your student number is 202012345, your password would be: 31/01345 (remember to include the forward slash).
Password for Existing students: either the configuration above, or you may have changed your password.
Academic Integrity
Plagiarism is clearly defined in the University of Divinity Academic Integrity Policy, Section 5.3. Plagiarism is the use by one person of another person's work as though it is the first person's work without appropriate attribution. This includes (but is not limited to) the following circumstances:
submits work for assessment written wholly or in part by another person whether for payment or not
uses or paraphrases work from any source other than the person's own work, including a book, journal, newspaper article, set of lecture notes, current or past student's work or any other person's work
when writing a computer program and presenting it as his or her own, incorporates the coding of a computer program written by another person
uses a musical composition or audio, visual, graphic or photographic work created by another person
uses realia created by another person, including an object, artefact, costume or model.
All work submitted for assessment must be the independent work of the person concerned. Students agree to a statement declaring the work as their own in the process of submission of each assessment item through Turnitin.
All written assignments are submitted through Turnitin via the ARK Learning Management System.
When lecturers or coordinators finds a high similarity score or recognise use of other sources and suspect a breach of Academic Integrity they email the Academic Dean with the Similarity Report and ask for this to be investigated.
Academic Dean investigates whether there is a breach.
If Yes, Academic Dean undertakes an assessment against criteria as to whether it is minor, moderate or major and follows the policy to assign assistance and penalties.
Academic Dean must send a report to University Secretary and advise lecturer/coordinator and student and student's support person.
If No, Academic Dean informs the lecturer/coordinator and there is no further action
Graduation Information
University of Divinity holds graduation ceremonies each year, at which students graduate in person or in absentia (in their absence). CTC looks forward to celebrating with our graduands in person where possible at the Melbourne ceremony.
Graduands have the choice to graduate in person or in absentia at one of the ceremonies.
CTC will contact potential graduands before the graduation process.
Once eligibility is confirmed, students have to opt-in to graduate at a graduation ceremony.
There is no cost for attending the ceremony, apart from hire or purchase of academic dress.
All graduating students are advised to check the graduation page on the University of Divinity website for information concerning graduation, or contact the Academic Dean.
2022 Melbourne Graduation Ceremony
Date: Friday 25 March
Time: 7.30pm
Venue: St Paul's Cathedral, Flinders Street, Melbourne
2021 Service of Thanksgiving
The Service of Thanksgiving for 2020 graduates (and HDR Graduation) scheduled for 31 August 2021 has been postponed due to lockdowns in Melbourne. Please see the updated information below.
Date: Saturday 20 November
This event is a thanksgiving service for 2020 graduates who missed out on the opportunity to attend their graduation due to COVID-19 restrictions. It is also open to HDR graduands by invitation only.
2021 Adelaide Graduation Ceremony
Date: Friday 3 December 2021
Time: 7.30pm
Venue: Online
Academic Documents
Students can obtain their Academic Documents throughout their studies and during and after graduation. Students requiring one of the following documents contact either the Academic Dean, Postgraduate Coordinator or Research Coordinator as appropriate:
A testamur (a unique certificate recording the award of the degree, diploma or certificate)
An academic transcript (a record of all units and courses of study attempted, and the results)
An Australian Higher Education Graduation Statement (a record that has international recognition as a statement of study undertaken in Australia)
Enrolment Summary
Acknowledgement of Melbourne's First Peoples
We acknowledge the Traditional Custodians who have walked upon and cared for the lands on which we live and work for thousands of years. We pay our respects to Elders past, present and future. We honour the continuing spiritual relationship of Aboriginal and Torres Strait Islander Peoples to this country. Read more…