CTC supports the following study tours which are open to all and offers the opportunity to undertake a study unit with CTC in conjunction with the tour for credit towards an award (additional costs and conditions apply).
Journey with Paul: Türkiye – Greece
17 Days: 20 September – 6 October 2024
Come with me in 2024 to Türkiye and Greece to discover Paul as we encounter him on his journeys in these two countries and where they intersect with the biblical texts of the letters of Paul and the Book of Acts. We will be travelling with the excellent experience of our local guides. This tour is focussed on Paul, his mission and his journeys, engaging his letters and the Lukan account of them in Acts in the contextual landscape.
Arrive into the ancient heart of Istanbul. Fly to Antalya to visit the harbour where Paul and Barnabus set sail
for Antioch (Acts 14: 25-26). See the remains of the Byzantine Church of St Paul in Pisidian Antioch. Sit in the
theatre at Miletus and hear the Farewell Speech of Paul to the Ephesian Elders (Acts 20:17-38). Walk the city
of Ephesus imagining Paul speaking to the crowd and stirring up a riot and reflecting on the early community
who began and developed here.
Crossing to Greece, visit the harbour where Paul stepped on shore at Neapolis (today's Kavala), walk on the via Egnatia as Paul did and come to Philippi where Paul met Lydia and she opened her heart and was baptised. Travel through Greece to Beroea and stop to see the wonder of the monasteries of Meteora before arriving in Athens. Stand on the Areopagus in Athens and travel to Corinth and remember Paul's words regarding the Lord's supper (1 Cor 11:23-28).
Prepare to be captivated, moved, and to enjoy new food and cultural experiences as we follow Paul through modern Türkiye and Greece. Be immersed in an experience of a lifetime and come home changed. PLUS: You can take the opportunity to undertake a study unit through CTC in conjunction with this tour (conditions and additional cost apply).
Information Sessions
Attend one of the three online information sessions in September 2023: 9, 16, or 23 at 2pm. Contact Dr Rosemary Canavan to register.
2024 Itinerary and Costs
Click here for itinerary details or to register your interest in the tour.
Tour Leader and Enquiries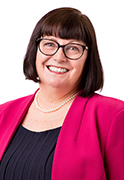 Dr Rosemary Canavan is a Senior Lecturer in Biblical Studies and formerly Academic Dean of Catholic Theological College, University of Divinity. Rosemary graduated her PhD in Biblical Studies at Flinders University in 2011 and coordinated the Study Tour of the Biblical Lands at CTC, leading numerous past tours. Her PhD and continuing research is focussed on the Letter to the Colossians, Colossae, Lycus Valley and Asia Minor. In 2018 Rosemary, as part of her sabbatical, visited Athens and Thessaloniki to assist the writing of a commentary on 1 and 2 Thessalonians. Rosemary's teaching and research engages the visual material culture of the world of the Pauline Letters and Acts of the Apostles as well as the Gospels of Luke and Matthew.